myLocal HomeBrew Shop started in 2005 as a brick and mortar store only. We've expanded our Falls Church storefront twice since then and in late 2014 we dipped our toes into the online world. As Virginia's leading homebrew supplier for more than 10 years we're pleased to serve our friends and customers locally, and beyond!
Although our selection of equipment and ingredients is already extensive, it's always growing. Our malt producers include the likes of Briess and Pilot, Muntons, Fawcett and Bairds, Avangard, Best, Dingemans and others. We carry Yakima Chief Hopunion (YCH) hops, Wyeast, White Labs, Imperial and Omega liquid yeast cultures, and many dried varieties including Mangrove Jack. Our popular Brewers Best beer kits are assembled and delivered to us each and every week, along with all of our other supplies. We also manufacture our own Potomac River Ales, Inspired Ales and Original Ales. Winemaking friends enjoy top notch Winexpert kits and cider and mead making supplies too.
Meet Derek & Mary Terrell—Owners, myLocal HomeBrew Shop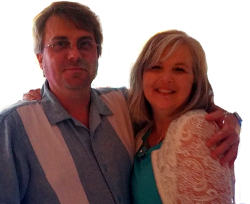 Derek is a long time homebrewer and former brewer at the Potomac River Brewing Co. of Chantilly, Virginia. He also managed Brew America in Vienna (and Merrifield) throughout much of the 90's. After much deliberation Derek opened myLocal HomeBrew Shop (myLHBS) in October 2005. Since that time, the store has quadrupled in size and in 2014 he added an online store to support home brewers near and far. He is the "go to" guy for recipe development and has an encyclopedic knowledge of ingredients, kegging solutions and brewing equipment.
Favorite Beer Style: IPA
Favorite Brewing Method: On a typical weekend, extract brewing with specialty grains. When time allows, all grain on his GrainFather.
Mary is a communications and marketing professional, and knowledgeable homebrew spouse who brews occasionally after discovering the PicoBrew Zymatic. She is a coffee enthusiast and can be found sipping home roasted, cold-pressed coffee any time of the day. Mary mostly works behind the scenes at myLHBS but brings her sunny personality into the store once or twice a week.
Favorite Beer Style: Prosecco
Favorite Brewing Method: Cold-pressed coffee in a French Press.
Current Staff
Meet Derek

Wait... I mean the other Derek, or D2 as we call him. Derek Stillwagon, our newest staffer, is a home brewer and a total foodie. If you want ideas on tweaking your recipe, he's your guy. After working crazy hours in the restaurant industry for years he's pretty stoked to be working "normal" hours, talk home brew with customers and to eagerly taste-test all the new food and beverages (and beer!) we've started carrying.
Alumni
Ryan Gruntz joined the team in 2011, previously working for the Starr Hill Brewing Company of Charlottesville, VA. As an amateur globe trekker, this young man has recently travelled to remote spots as far as New York City in search of The Perfect Beer. Favorite beer style: Yes! Favorite brewing method: Mini-mash, for the best of both worlds. In 2014 Ryan graduated from a prestigious brewing studies program in Germany and we wish him the best of luck.
Jared Kiraly was one of our first regular employees before moving on to Harpoon Brewing of Boston, MA. Later, after a short but globe-spanning fling with waffles, he resurfaced at Bone Up Brewing Co. with his lovely wife and business partner. Favorite beer style: What's on tap? Brewing method: I brew everything with Saison yeast. Don't judge me.
Mike Dolan, founder of DCBeer.com and the DC Homebrewers club, lurks occasionally as does Dave Sutula who is a past President of the Herndon Wort Hogs. Sadly, Mitchell West moved on to play in a punk band and is now organizing their first "Whirled Tour Of The Inner Beltway". All kidding aside, we think his latest band sounds pretty good and invite you to check out Loud Boyz here. Rock on!